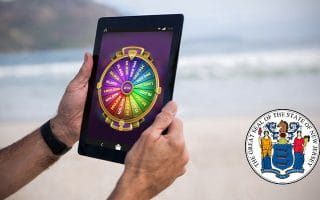 Acara permainan Wheel of Fortune yang populer kini telah berkembang ke pasar kasino online melalui kemitraan dengan Sony Pictures Television, MGM Resorts, dan International Game Technology (IGT). The Wheel of Fortune Online Casino secara resmi diluncurkan di New Jersey Juni lalu, menghadirkan platform game baru yang menarik bagi para pemain dan penggemar game ini.
MGM Resorts, yang beroperasi melalui Borgata Hotel Casino & Spa di Atlantic City, adalah salah satu dari delapan pemegang lisensi perjudian online di New Jersey saat ini. Izin Borgata untuk perjudian online dikaitkan dengan sepuluh platform kasino online yang berbeda, yang mencakup merek populer seperti BetMGM, PartyPoker, Kasino Borgata, dan Pala Bingo.
Ini Hanya Dapat Diakses Di Negara Bagian New Jersey
Kasino Wheel of Fortune Online hanya dapat diakses oleh penjudi yang berlokasi di negara bagian New Jersey. Platform game online menampilkan slot dan permainan meja tetapi tidak menawarkan permainan dealer langsung apa pun. BetMGM, operator game online di belakang situs kasino Wheel, bertanggung jawab untuk memastikan kepatuhan terhadap semua ketentuan relevan yang ditetapkan oleh Divisi Penegakan Permainan New Jersey.
New Jersey adalah salah satu dari enam negara bagian yang mengizinkan iGaming dengan mesin slot interaktif dan permainan meja. Pasar game online negara bagian adalah yang terkaya, dengan operator iGaming memperoleh lebih dari $1,6 miliar secara online pada tahun 2022. Ini termasuk pendapatan game kotor dari slot online, permainan meja, dan biaya poker, tetapi bukan dari taruhan olahraga online.
Pemegang iGaming berlisensi di New Jersey diberi izin untuk membagikan hak istimewa operasi mereka dengan platform pihak ketiga, asalkan disetujui oleh regulator permainan negara bagian. CEO BetMGM Adam Greenblatt berkata, "Kami sangat senang untuk menghadirkan Wheel of Fortune Online Casino kepada para pemain di New Jersey, di mana mereka sekarang dapat bermain dengan uang sungguhan dan merasakan kegembiraan acara permainan yang disukai di ponsel mereka. Kami memiliki aliansi yang hebat dengan Wheel of Fortune dan IGT dan berharap dapat menawarkan pilihan permainan yang inovatif dan beragam kepada para pemain kami.
Lebih Lanjut Tentang Sejarah Roda Keberuntungan
IGT memegang hak pemasaran merek acara permainan Wheel of Fortune untuk mesin slot melalui perjanjiannya dengan Sony, yang telah memproduksi program malam sejak 2002. Wheel of Fortune telah ditonton di seluruh AS sejak Januari 1975, itulah sebabnya dianggap sebagai pertunjukan game sindikasi terlama dalam sejarah AS. Pertunjukan permainan telah diadaptasi menjadi lebih dari 60 versi internasional dan populer di negara-negara seperti Jerman, Cina, Prancis, Brasil, Meksiko, Italia, Filipina, dan Rusia.
The Wheel of Fortune Online Casino sekarang tersedia untuk penduduk New Jersey, memberikan cara baru untuk merasakan keseruan acara permainan ikonik ini sambil menikmati permainan kasino dari kenyamanan rumah mereka. Dengan dukungan MGM, Sony Pictures, dan IGT, Wheel of Fortune Online Casino diatur untuk memberikan pilihan opsi permainan yang inovatif dan beragam bagi para pemain.